Fees + Financing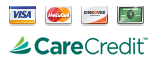 Our patients find our fees realistic and honest and we try to keep them as low as possible.
We accept cash, credit cards (Amex, Mastercard, Visa, Discover) and CareCredit® with 6 months interest free financing.
Checks are accepted on a case by case basis, please ask us in advance if you need to use a check.
CareCredit® for Cosmetic Procedures
We're pleased to accept the CareCredit® credit card, North America's leading patient financing program. CareCredit® lets you begin your treatment immediately – then pay for it over time with convenient monthly payments that fit easily into your budget. Now you don't have to save up for years to finally get the treatments you've always wanted.
The credit card exclusively for your health and beauty needs.
CareCredit® is the credit card exclusively for healthcare services. Provided you have credit available, you can use your card over and over for follow-up appointments or different procedures. *This means you don't have to put your health and beauty on hold until you save up enough money. We give you the power to decide when it's the right time for you.
Apply now or to learn more about CareCredit®, please contact us.
*Subject to credit approval. Minimum monthly payments required. Visit www.carecredit.com for details.
Please call the office if you have any additional questions re: Financing with CareCredit® 201-265-1300
You have the right to receive a "Good Faith Estimate" explaining how much your health care will cost
Under the law, health care providers need to give patients who don't have certain types of health care coverage or who are not using certain types of health care coverage an estimate of their bill for health care items and services before those items or services are provided. At Baxt CosMedical we do not accept any health insurance, the Good Faith Estimate only applies to patients who do not have health insurance of any type. For more information, click here.
---
Let our family treat your family, a legacy you can trust!
Rebecca Baxt, M.D., M.B.A, F.A.A.D.
Cosmetic And Medical Dermatology Office Located in Paramus, NJ (serving Bergen County, NJ communities)